This is an archived article and the information in the article may be outdated. Please look at the time stamp on the story to see when it was last updated.
A Fontana man accused of beating a passerby with a bat in an apparently random attack in Rialto, leaving the victim with life-threatening injuries that he was not expected to survive, was charged Wednesday with attempted murder allegedly committed as a hate crime.
Jeremiah Ajani Bell, 22, was arrested Monday, a day after a daylight assault on 54-year-old Armando Barron, who was walking down the street when he was attacked.
Bell was due in court in Rancho Cucamonga Thursday morning, the San Bernardino County District Attorney's Office announced.
Bell was charged with attempted, willful, deliberate and premeditated murder, according to a criminal complaint filed by the DA's office. The complaint indicated the crime was committed in violation of one of California's criminal hate crime statutes that allow for sentencing enhancements for bias-motivated felonies.
"It appears he was targeting anybody who wasn't black," Rialto police Detective Sgt. Paul Stella said Wednesday.
Barron was left paralyzed and comatose due to a brain injury, the complaint stated. He was repeatedly beaten in the head with an aluminum baseball bat in what Rialto police called an "unprovoked encounter."
He was in critical condition at Arrowhead Regional Medical Center in Colton with his two daughters at his side, authorities said.
A GoFundMe fundraiser page for the family's medical bills indicated Barron was not expected to survive.
"Our father was a loving and noble person, who was tragically assaulted based on the color of his skin. He taught us to be loving and see beyond color," the page read. "Our only comfort at this time is that he is no longer in pain and that he will soon be in heaven to look over us and his grandchildren."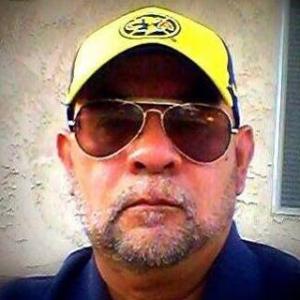 Barron was on his way home from the grocery store to watch soccer when he was attacked, the page stated.
"Unfortunately my dad was in the wrong place at the wrong time and was the first person of the 'wrong' color the suspect saw," it stated.
Bell confessed to the crime, according to Rialto Police Department Capt. Andrew Karol. He was arrested at his apartment in Fontana.
"Mr. Bell actually woke up that morning and stated that he had a feeling that he needed to kill someone," Karol said Tuesday.
Witnesses told police no words were exchanged before Barron was attacked about 2:30 p.m. Sunday in the 300 block of North Maple Avenue (map).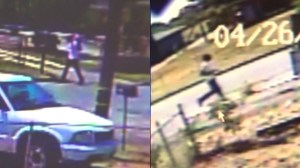 Police released home surveillance video Wednesday that investigators said showed the attacker walking with a baseball slung across his shoulders. The man bludgeoned Barron off screen, tossed the bat away, and then ran back down the street, again in view of the camera.
Bell was being held at West Valley Detention Center on $1 million bail, inmate records showed.
Barron rented a room in Rialto, Stella said. He was pushing some belongings in a shopping cart when he was attacked, police said.
"If it wasn't him this day, it would have been somebody," Stella said.
Anyone who saw the attack or who has information was asked to contact Rialto police Detective David Padilla at 909-421-7227 or dpadilla@rialtopd.com.
More video: