This is an archived article and the information in the article may be outdated. Please look at the time stamp on the story to see when it was last updated.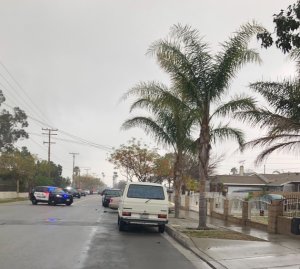 An ongoing dispute may have led one Fontana neighbor to fatally shoot another, prompting an exchange of gunfire with responding officers that ended with the gunman dead, police said Monday.
The incident began when police were called to a home in the 7400 block of Cypress Ave for a report that a man had been shot about 1:30 p.m. Saturday.
In front of the home, they found 67-year-old Claudio Rendon, bleeding from several gunshot wounds, according to a Fontana Police Department news release. While police began treating Rendon, a man began firing at the officers from his front porch at the home next door.
At least one officer fired back at the armed neighbor as police tried to move Rendon to safety. The neighbor, identified as 45-year-old Orion Godbout, was found dead of a gunshot wound with a firearm next to him, the release stated.
It's not clear if the fatal gunshot was fired by police or by Godbout himself, according to the release. The San Bernardino County Sheriff's Department is investigating the officer-involved shooting.
Rendon, meanwhile, was taken to a hospital where he was pronounced dead.
Police released little information about the incident on Saturday night, and hid not report that Rendon had died.
Investigators believe the two men had an ongoing dispute. When Rendon pulled into his driveway Sunday afternoon, Godbout allegedly ran up to the vehicle and fired at him, who then collapsed in his driveway. Godbout went back into his home but came outside again to fire at officers, police said.
The shooting occurred in a neighborhood of single-family homes just down the street from an elementary school.
The officers involved were not identified. They have been placed on paid administrative leave pending the investigation, per department policy.
Suspect Dead after Killing Neighbor and Shooting at Police Officers. https://t.co/tvRbaBrIZO pic.twitter.com/A6GUBekILx

— Fontana PD (@FontanaPD) March 12, 2018