This is an archived article and the information in the article may be outdated. Please look at the time stamp on the story to see when it was last updated.
A Fontana man who caused a car crash while impersonating an ICE agent and had a sizable cache of weapons and ammunition was sentenced to 2 years in federal prison on Monday, officials said.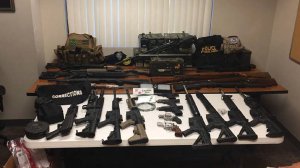 Matthew Ryan Johnston, 26, used counterfeit ICE badges and uniforms to masquerade as an agent for the federal immigration enforcement agency throughout last year, making contact with unsuspecting members of the public, the U.S. Attorney's Office for the Central District of California said in a news release.
The collision he was accused of causing occurred after he activated unauthorized red-and-blue police lights in attempt to pull a vehicle over, prosecutors said.
Authorities were clued in to the illegal activity after Johnston's ex-girlfriend turned the lights on by accident. After a sheriff's detective pulled her over in San Bernardino County, Johnston spoke with the detective on the phone and represented himself as an ICE agent, investigators said.
He also fielded a report from someone about a potential undocumented immigrant and would often tell employees and patrons at the Déjà Vu Showgirls strip club in Industry that he was an ICE agent, according to prosecutors.
After a search warrant was served at his Fontana home last October, authorities uncovered a trove of firearms, illegal destructive devices and fraudulent ICE gear.
A fake ICE identification card and body armor carriers with patches reading "ICE and "Federal Agent" were found along with red-and-blue emergency lights, officials said.
Investigators say they also located about 10,000 rounds of ammunition, an AR-15 .223-caliber rifle with an attached 37 mm flare launcher, an improvised shotgun shell with anti-personnel ammunition and a home-made, slam-fire device designed to shoot 12-gauge shotgun shells.
Authorities then followed geo-coordinates found in Johnston's cellphone to an open desert location, where they found five unexploded or partially exploded improvised explosive devices, an expended smoke grenade, an exploded container of a binary explosive and the remnants of an exploded pipe bomb.
ICE agent impersonator who possessed destructive devices sentenced to 24 months' imprisonment https://t.co/OCWGrLwCZI pic.twitter.com/akLXkwQ26w

— US Attorney L.A. (@USAO_LosAngeles) May 21, 2018