This is an archived article and the information in the article may be outdated. Please look at the time stamp on the story to see when it was last updated.
A young Fontana Police Department officer was killed while riding his motorcycle on a winding mountain road above Azusa, the department announced Wednesday.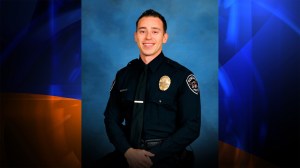 Officer Thomas Chamberlin, 26, died about 8:30 p.m. on Highway 39, also known as San Gabriel Canyon Road, in the Angeles National Forest. He was off duty, according to Fontana police Sgt. Doug Imhof.
Chamberlin, a Walnut resident, was riding a 2013 Triumph southbound near mile post 21 when he lost control for unknown reasons, according to a California Highway Patrol news release issued Wednesday afternoon.
Chamberlin "veered off the roadway in a westerly direction, subsequently striking the side of the mountain," the release stated.
He was airlifted to USC-Los Angeles County Medical Center in critical condition with "substantial" head injuries, according to CHP. He died at the hospital.
Chamberlin was a U.S. Marine from 2006 to 2011, when he was honorable discharged, according to a Fontana Police Department news release. He served in Iraq and Afghanistan.
A 2006 graduate of Diamond Bar High School, Chamberlin attended California State University, Fullerton, after his discharge.
He was hired by the Fontana Police Department in June 2013, and had graduated in December from the San Bernardino County Sheriff's Department Police Academy.
The California Highway Patrol was investigating the crash and was expected to provide additional details.
Chamberlin is survived by his parents, Tom and Guadalupe.
His death came as the Fontana Police Department was also mourning the death of a longtime volunteer, Matt Ballinger, who died during his sleep on Sunday night, according to a post on the department's Facebook page.