This is an archived article and the information in the article may be outdated. Please look at the time stamp on the story to see when it was last updated.
A 22-year-old Fontana woman accused of killing six people while driving the wrong way on the 60 Freeway in Diamond Bar last year pleaded not guilty for a second time Wednesday after a judge determined she was eligible to face murder charges.
Olivia Carolee Culbreath appeared at an arraignment hearing in a downtown Los Angeles courtroom Wednesday wearing a hospital gown and handcuffed to a wheelchair.
Culbreath was initially charged with six counts of murder on Feb. 13, 2014. During a preliminary hearing on Jan. 28, a judge ruled there was enough evidence for the earlier charges to stand, according to Sarah Ardalani with the Los Angeles County District Attorney's Office.
Prosecutors allege Culbreath was driving a 2013 Chevrolet Camaro the wrong way on the 60 Freeway at speeds over 100 mph in the early morning hours of Sunday, Feb. 9, 2014 when she collided head-on with a 1998 Ford Explorer.
All four occupants in the Ford Explorer were killed and two passengers in the Camaro also died, including Culbreath's own sister, according to the DA's office.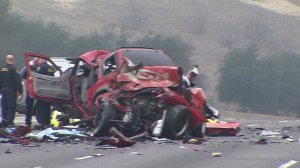 The victims of the crash were identified as: Gregorio Mejia-Martinez, 47; his wife, Leticia Ibarra, 42; their daughter, Jessica Jasmine Mejia, 20; Jessica's grandmother, Ester Delgado; Maya Louise Culbreath, 24, of Rialto; and Kristin Melissa Young, 21, of Chino.
Culbreath had a previous DUI violation and had restrictions on her license lifted the week before the crash, according to the California Department of Motor Vehicles.
She was due back in court for a pretrial conference on March 10, Ardalani said.
If convicted as charged, Culbreath faced a maximum sentence of life in state prison.