This is an archived article and the information in the article may be outdated. Please look at the time stamp on the story to see when it was last updated.
A former Alaska Airlines captain has been arrested and charged with being under the influence of alcohol while a piloting a commercial plane with passengers onboard in 2014, federal officials announced Thursday.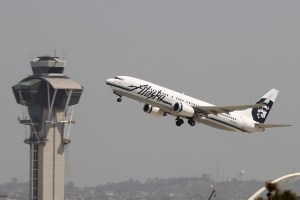 David Hans Arnston, 60, was taken into custody Wednesday and arraigned on the felony charge in U.S. District Court in Los Angeles, according to a statement issued by the United States Attorney's Office of the Central District of California.
The Newport Beach resident was released on $25,000 bond and was ordered to appear at a Feb. 10 arraignment, the news release said.
According to a criminal complaint filed Tuesday, Arnston piloted two Alaska Airline flights on June 20, 2014 — one from San Diego International Airport to Portland International Airport, and another from PDX to John Wayne Airport in Santa Ana.
After landing in Orange County, Arnston was selected for a random drug test by the airline, the statement said. An Alaska Airlines technician administered two tests to the pilot, with results indicating a blood alcohol concentration of 0.134 percent and 0.142 percent, prosecutors said.
In statement released Friday, Alaska Airlines said Arnston was "immediately removed from duty" after the drug test, adding that he refused to submit to an investigatory interview.
A person operating a commercial airliner is presumed to be under the influence when his or her blood alcohol content is 0.10 percent or higher, according to federal law.
The co-pilot on the two June 20 flights told investigators that, after the plane touched down in Santa Ana, he and Arnston saw the drug tester, prompting the captain to say: "I bet it's for me," according to the criminal complaint.
In a subsequent interview, Arnston told federal investigators that he did not have an alcohol- or substance-abuse problem, and that he had sipped a beer with dinner on the night before the flights in question, according to prosecutors.
He resigned his position at Alaska Airlines "before we were able to complete an investigation that would have led to his termination," the company's statement said.
U.S. Attorney Eileen M. Decker said operators of passenger jets and other forms of public transportation "have an obligation to serve the public in the safest and most responsible way possible."
"We cannot and will not tolerate those who violate the trust of their passengers by endangering lives," she added.
If convicted as charged, Arnston faces a maximum of 15 years in prison, according to the news release.