This is an archived article and the information in the article may be outdated. Please look at the time stamp on the story to see when it was last updated.
An Orange County man has pleaded guilty to being under the influence of alcohol while piloting an Alaska Airlines commercial flight with passengers onboard in 2014, federal prosecutors said.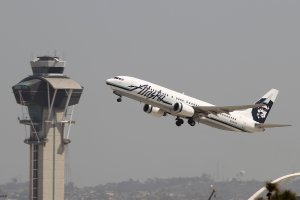 The 62-year-old former captain, David Hans Arntson, entered the plea to a single felony count in a deal filed Tuesday, according to the U.S. Attorney's Office of the Central District of California.
The Newport Beach resident was accused of piloting two flights on June 20, 2014, the day random drug and alcohol screening conducted by Alaska Airlines showed his blood alcohol concentration was nearly three times the legal limit of 0.04 percent for pilots, court documents show.
Arntson first flew from San Diego International Airport to Portland, Oregon, then piloted a flight from Portland to John Wayne Airport. Around 240 passengers total were aboard the planes, both Boeing 737s, officials said.
It was after he landed in Santa Ana that Arntson was pulled aside for two breathalyzer tests. The results indicated a blood alcohol concentration of 0.134 percent and 0.142 percent, according to the plea bargain.
His co-pilot previously told investigators that when Arntson said, "I bet it's for me," when he spotted the drug tester approaching.
But after receiving the results Arntson allegedly drove himself to a hospital to conduct additional tests that confirmed his blood alcohol level was "substantially" over the legal limit, prosecutors said.
The former captain suffered from alcoholism and piloted flights under the influence for "at least a substantial portion" of the 20 years he worked for Alaska Airlines, court documents state.
It is unknown exactly how many flights were involved.
"Thankfully, Mr. Arntson was never involved in an accident, but his conduct could have resulted in tragic consequences," U.S. Attorney Nicola T. Hanna said in a statement. "Very few people will ever hold the lives of so many people in their hands at one time."
Alaska Airlines removed Arntson from duty after the incriminating breathalyzer tests and the captain subsequently retired. His Federal Aviation Administration license has been revoked.
The terms of the plea agreement suggest a sentence of one year in federal prison and three years of supervised release — compared to a maximum sentence of 15 years in prison — but Arntson's actual sentence could differ. A sentencing hearing had not yet been scheduled.