This is an archived article and the information in the article may be outdated. Please look at the time stamp on the story to see when it was last updated.
A 22-year-old man was found guilty of raping a woman while he was a football player at Cerritos College in Norwalk, officials said Friday, in his second rape conviction in less than five years.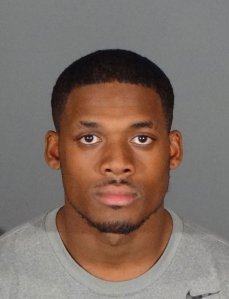 Kishawn Holmes of Hemet was convicted of forcible rape on Thursday by a jury that spent less than a day deliberating, the Los Angeles County District Attorney's Office said in a news release.
The rape occurred Sept. 8, 2016, after Holmes invited a 19-year-old woman who was also a Cerritos College student to his apartment in Norwalk, according to prosecutors. There, he sexually assaulted the woman in his room.
Investigators believed Holmes met his victim through her work as a student physical therapist who worked with football players and other athletes at the school, Sgt. Marvin Jaramilla with the L.A. County Sheriff's Department previously told reporters.
The September 2016 rape took place just months following Holmes' release from his status as a ward of the court as part of his sentencing after being convicted of multiple sex crimes as a minor.
Holmes was 17 and attended Vista Murrieta High School at the time, playing football for the school's top-ranked team. After pleading guilty, he was sentenced to one year in custody a made a ward of the court until January 2016.
While it's still unclear exactly what Holmes was convicted of in the 2013 case due to the closed nature of juvenile court proceedings, officials have confirmed he was convicted on multiple counts, among them forcible rape.
The charges in that case, involving six victims, included two counts of rape by force or fear; two counts of lewd and lascivious acts upon a child under the age of 14; three counts of false imprisonment; and one count of dissuading a witness who was one of the alleged rape victims.
Though he was a juvenile, the DA's office released Holmes' name because of the nature of the crimes. At the time, KTLA covered the story but chose not to publish Holmes' name because he was a juvenile and had not been convicted. The Los Angeles Times reported Holmes' name.
The 22-year-old is scheduled to be sentenced in the most recent case on May 2 in the Norwalk branch of L.A. County Superior Court.
He faces up to 18 years in state prison and lifetime sex offender registration. He was not required to register after the previous conviction because he was a juvenile.