This is an archived article and the information in the article may be outdated. Please look at the time stamp on the story to see when it was last updated.
A former Olympic champion boxer who trained children for the past decade at an East. L.A. boxing gym has been arrested after being accused of sexually assaulting a minor, the Los Angeles County Sheriff's Department announced Thursday.
Paul Gonzales, 53, was charged by the L.A. County District Attorney's Office with eight felony counts, including four counts of lewd acts upon a child, sheriff's officials said in a news release.
Additional details about the allegations were not immediately provided, and it was unclear if the counts were related to one or more alleged victims.
Gonzales represented the U.S. in the 1984 Olympics in Los Angeles, winning a gold medal in boxing.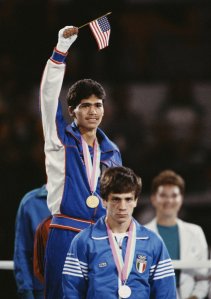 More recently, he was employed by the L.A. County Parks and Recreation Department. For the past 10 years, he trained and mentored children at the Eddie Heredia Boxing Club, located at 4127 E. Olympic Blvd., according to the Sheriff's Department.
Gonzales was arrested last Friday and remains behind bars at the Men's Central Jail in downtown L.A. He is being held on $575,000 bail, inmate records indicated.
He is scheduled to appear in court on Jan. 18.
Investigators believe, based on the allegations and the fact that the suspect worked with youth, that he may have other victims.
The department's Special Victims Bureau is investigating the case, and anyone with information can call them at 877-710-5273 or 877-710-LASD.