This is an archived article and the information in the article may be outdated. Please look at the time stamp on the story to see when it was last updated.
A former Disney star and his girlfriend have been arrested in connection with a series of armed robberies in Burbank, officials said.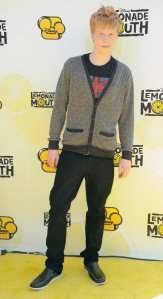 Adam Hicks, 25, who was featured in the Disney Channel's "Zeke and Luther," was arrested and booked in connection with the incidents that occurred on Wednesday, according to the Burbank Police Department.
A woman, Danni Tamburo, was also arrested in connection with the crimes. BuzzFeed News reported that Tamburo is Hicks' girlfriend.
The first victim was walking near the intersection of Burbank Boulevard and Griffith Park Drive about 5:15 a.m. Wednesday when Hicks allegedly went up to him while armed with a gun. Hicks allegedly pointed the gun at the victim and demanded his wallet. The victim was able to run away, police said.
Officers responded to the scene to investigate, when three additional armed robberies occurred within minutes of each other, police said.
All the victims were out for a walk when they were robbed, and they all provided similar descriptions of the robber and his vehicle, a dark-colored Kia with at least two people inside.
A witness later spotted a car matching that description in the 1600 block of Scott Road. Police responded, found the car and detained a woman involved in at least one of the robberies. Police also found property belonging to one of the victims, along with stolen property nearby.
Police were led to a home they believe was linked to the suspects in the 1800 block of North Niagara Street.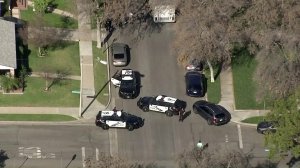 SWAT members assisted in serving a search warrant at the home and Hicks was taken into custody.
Burbank Police Lt. Claudio Losacco told KTLA that they found additional stolen property and a revolver used in the crimes in the home.
Tamburo, 23, was identified as the woman who was arrested in the car and is believed to be the driver during the robberies.
Hicks and Tamburo are both being held on $350,000 bail, police said. They are scheduled to appear in court on Friday.
Hicks played Luther Jerome Waffles on the Disney show, which ran from 2009 to 2012, according to IMDB. The show centered around two best friends who wanted to become the world's best skaters.
Hicks also starred in the Disney movie "Lemonade Mouth" in 2011. His acting career dates back to 2000, when he was in the show "Titus," according to IMDB.