This is an archived article and the information in the article may be outdated. Please look at the time stamp on the story to see when it was last updated.
LOS ANGELES (KTLA) — Former FBI agent and threat assessment expert Steve Moore has called Christopher Dorner a paranoid psychotic, who fancied himself a hero.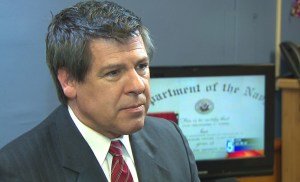 KTLA spoke with Steve Moore as events unfolded on Tuesday, and he said that Dorner's plan was not so intricate after all.
"Big talk in the manifesto, cowardly acts," Moore said, summing up his opinion of the former LAPD officer and Navy reservist.
"I am surprised he killed himself apparently, if the story of one shot is true," Moore added.
With the manhunt for Dorner ending in a burning cabin south of Big Bear Lake, Moore says if Dorner did kill himself, his last act was cowardly — as was his first.
"Shooting the unarmed daughter of a man you had a grudge with — that is the coward's way out. He has taken the coward's way out from day one," Moore insisted.
Dorner's first mistake, Moore believes, was praising a friend in his manifesto whose family owned a residential property in Arrowbear.
That clue drew authorities to the mountains last Thursday, where Dorner's truck, disabled by a broken axle, was found burning nearby.
"He is not as high-speed, low-drag, special forces as he wanted everybody to think," Moore assessed.
"Could he shoot? Yes. Could he hurt people? Yes. But was he really who he said he was? No."
On Tuesday morning, two maids entered a cabin in the 1200 block of Club View Drive and ran into a man who they said resembled the fugitive, a law enforcement official said.
The cabin was not far from where Dorner's singed truck had been found and where police had been holding news conferences about the manhunt.
The man tied up the maids, and he took off in a purple Nissan parked near the cabin, the official said. About 12:20 p.m., one of the maids broke free and called police.
Nearly half an hour later, officers with the California Department of Fish and Wildlife spotted the stolen vehicle and called for backup.
The suspect turned down a side road in an attempt to elude the officers but crashed the vehicle, police said.
A short time later, authorities said, the suspect carjacked a light-colored pickup truck.
As the suspect zoomed past the officers, he rolled down his window and fired about 15 to 20 rounds, authorities said.
One of the officers jumped out and shot a high-powered rifle at the fleeing pickup, they said, and the suspect abandoned the vehicle and took off on foot.
"I think he was without a backup plan once he broke his truck down," Moore said. "I mean, think about it. The guy's been gone four days, he's wrecked three cars."
But, in a 10-day period, Christopher Dorner also took the lives of four people, and wounded three others.
"The only time he ever gives somebody a chance to defend themselves, he ends up dead. It's not very impressive," Moore concluded.