This is an archived article and the information in the article may be outdated. Please look at the time stamp on the story to see when it was last updated.
An actor who once starred on the popular TV series "Glee" has pleaded guilty to federal child pornography charges, admitting he possessed about 25,000 photos showing children doing sexual acts, the California Department of Justice announced Monday.
Salling, a 35-year-old resident of Shadow Hills, agreed to a plea agreement with federal prosecutors in which he pleaded guilty to one count of child pornography involving a prepubescent minor. As part of that deal, filed in October, he told prosecutors that he downloaded the images in 2015 and used software designed to hide his illegal activity.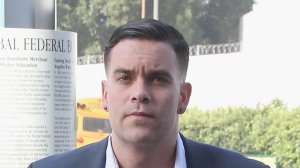 Law enforcement officials found the vast collection of child porn on a laptop as well as on a hard drive and USB flash drive after they were reported by a girlfriend of Salling's, prosecutors said. He had shown her some of the images.
He did that "in the context of their sexual relationship," the Los Angeles Times reported, citing information from authorities.
Salling was arrested two years ago, in December 2015, when a search warrant was served at his Sunland home by the LAPD Internet Crimes Against Children task force. He admitted to owning a huge collection of child porn in October, when he agreed to pleading guilty to the charges.
While the crime carries a minimum sentence of 20 years, prosecutors and the legal representation for Salling have agreed that an "appropriate sentence" would be four to seven years in federal prison and then 20 years of "supervised release," according to a news release. He will also be required to register as a sex offender.
Salling is scheduled for sentencing — to be decided by U.S. District Judge Otis Wright II — on March 7. The federal judge has the option of handing down a prison sentence outside that range.
"If Judge Wright decides to impose a sentence outside of the agreed-upon range, either party will have the option of withdrawing from the agreement," a justice department news release states.