This is an archived article and the information in the article may be outdated. Please look at the time stamp on the story to see when it was last updated.
Lee Baca, the once powerful and popular sheriff of Los Angeles County, was found guilty Wednesday of obstructing a federal investigation into abuses in county jails and lying to cover up the interference.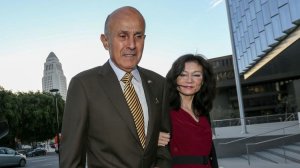 The verdict, which jurors reached on their second full day of deliberations, marked a devastating fall for a man who in his 15 years as sheriff built himself into a national law enforcement figure known for progressive ideas on criminal justice issues. Baca, who is 74 and suffers from the early stages of Alzheimer's disease, now faces the likelihood of time in federal prison.
The conviction is a significant victory for a team of public corruption prosecutors from the U.S. attorney's office who opted to retry Baca following a mistrial late last year. In that trial, the jury deadlocked 11 to 1 in favor of acquitting the former sheriff.
To get to Baca, prosecutors methodically worked their way up the ranks of a group of sheriff's officials who were accused of conceiving and carrying out a scheme to impede the FBI jail inquiry. In all, 10 people — from low-level deputies to Baca and his former second in command — have been convicted or pleaded guilty. Several other deputies have been found guilty of civil rights violations for beatings they delivered on inmates and visitors in the jails.
Click here to read the full story on LATimes.com.