This is an archived article and the information in the article may be outdated. Please look at the time stamp on the story to see when it was last updated.
A man imprisoned for violating civil rights in the police beating of Rodney King, which sparked deadly riots in 1992, was arrested in Castaic on suspicion of driving while intoxicated, officials said Thursday.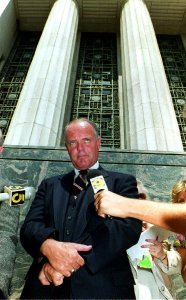 Stacey Koon, 67, was driving his white, 1999 GMC Yukon on Heather Lane, west of Greenwood Place, when he crashed into a parked car around 3:30 p.m. Tuesday, according to the California Highway Patrol.
The former Los Angeles police sergeant was the sole person involved in the crash. He was not hurt, authorities said.
However, officers at the scene determined Koon was under the influence of alcohol at the time, officials said.
He was then arrested on suspicion of drunken driving, according to CHP.  No record of Koon's name was found in the L.A. County online inmate database.
CHP noted he was "polite and cooperative" during the investigation.
It is the same Stacey Koon who was sentenced to 30 months in prison for King's beating in 1991, TMZ reported. Koon, a Castaic resident, was the LAPD sergeant in charge at the scene of Rodney King's beating.
Although he and three other officers were acquitted of criminal charges in California court, Koon was subsequently convicted in federal court. He served the entirety of his 30-month sentence.
In 2012, two decades after the riots, Koon's attorney told the Los Angles Times that Koon is a committed family man but does not talk about his personal life due to continued death threats.
"He's moving forward with his life as best as he can," Koon's attorney told the Times.
Correction: A previous version of this article misstated Koon's sentence and gave the wrong year for the beating of Rodney King. The post has been updated.