This is an archived article and the information in the article may be outdated. Please look at the time stamp on the story to see when it was last updated.
A former teacher at a Wilmington elementary school was sentenced to 12 years in state prison Thursday after pleading no contest to sexually molesting four students.
Robert Pimentel, 58, sat in a Long Beach courtroom while those affected discussed the impact of his crimes.
One woman said there is a special place in hell for "scum" like Pimentel.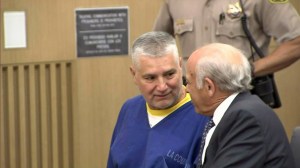 Pimentel was a fourth-grade teacher at George De La Torre Jr. Elementary School, where he sexually abused multiple girls between 2002 and 2012, according to the prosecutor.
One of his students told her mother about the abuse in 2012, prompting a Los Angeles Police Department investigation and the Pimentel's January 2013 arrest. He's been in custody since then.
Avoiding a trial, Pimentel pleaded no contest on May 29 to one felony count of continuous sexual abuse and three felony counts of lewd act on a child.
He will be required to register as a sex offender and stay away from the victims for 10 years, according to the Los Angeles County District Attorney's Office.
Pimentel's sister, Lilly Pimentel Stratton, said the criminal prosecution was a "setup" to extract money from LAUSD, referring to a civil lawsuit against the school district over Pimentel's abuse.
At a news conference Thursday, an attorney representing 15 female plaintiffs who allege they were abused by Pimentel said he will seek to hold LAUSD accountable. Attorney John Manly said he has documents that show the school's principal knew about allegations against the teacher but did nothing to stop the abuse.
"Who does nothing when you have dozens of little children that have been raped by a teacher?  That's just foul," Manly said. "This has happened to a lot of people. It needs to stop. The secrets need to go away and LAUSD needs to come into the 21st century and stop hiding this and admit they have a problem."
Four administrators were placed on leave amid an internal investigation into whether the district properly handled parents' complaints about Pimentel, the Los Angeles Times reported.
In a statement, David Holmquist, the school district's general counsel, said Pimentel's sentencing "closes this chapter for the children and families involved."
"We know how painful trials can be, and appreciate the district attorney and courts expedient handling of the criminal matter. We hope that plaintiffs' counsel will make the same commitment to work with us through the remaining civil matters," Holmquist said.