This is an archived article and the information in the article may be outdated. Please look at the time stamp on the story to see when it was last updated.
A former Monterey Park police officer convicted of sexually assaulting women while on duty was sentenced Tuesday to nearly eight years in state prison, according to the Los Angeles County District Attorney's Office.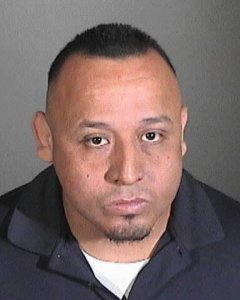 Israel Sanchez, 42, received a prison sentence of seven years and eight months, and he was also ordered to register as a lifetime sex offender, a news release stated. He faced up to 11 years in prison, prosecutors said.
On March 14, a jury found Sanchez guilty on 14 counts: five counts of sexual battery by restraint, five counts of assault under color of authority, three counts of false imprisonment by violence and one count of soliciting a bribe, the statement read.
Between July and August 2014, the former officer forced the female victims to expose themselves during traffic stops he was conducting while on duty, according to the DA's office. "On two occasions, he touched the women after ordering them to expose themselves," the news release stated.
The victims were between 19 and 28 years old, prosecutors said.
Sanchez denied wrongdoing and said he suffered physical and emotional scars due to his service as a Marine in Iraq, the Los Angeles Times reported. But the judge in the case stressed that the former officer took advantage of a position of trust, according to the newspaper.
The Long Beach Police Department investigated the case at the request of the Monterey Park Police Department.