This is an archived article and the information in the article may be outdated. Please look at the time stamp on the story to see when it was last updated.
An Irvine woman who formerly held the title of Mrs. Orange County has been arrested on suspicion of producing and distributing child pornography involving a 4-year-old family member, officials said Thursday.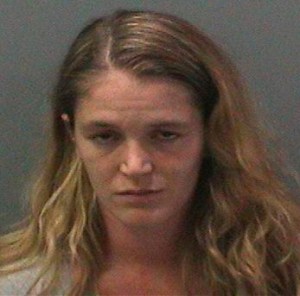 Meghan Breanna Alt, 25, was arrested Wednesday in San Diego County by investigators from a multi-agency child exploitation task force, the Orange County Sheriff's Department stated in a news release.
Following her arrest, Alt confessed to several allegations of production and distribution of child pornography involving the 4-year-old family member, the Sheriff's Department stated.
Alt allegedly sold the sexually explicit images to a U.S. Marine stationed in Southern California in exchange for cash and gifts.
Alt also advertised services online, which investigators said resulted in an exchange of sex for money, often occurring with her children present.
The investigation into Alt was initiated based on information obtained from the Naval Criminal Investigative Service, the news release stated.
She was arrested on suspicion of production and distribution of child pornography and lewd and lascivious conduct with a child.
"Pretty egregious allegations at this point," sheriff's Lt. Jeff Hallock said. "It's believed that she was utilizing a 4-year-old family member to create and then distribute child pornography, and she was doing that via electronic means."
Alt was pulled over during a vehicle stop in San Diego County and was with her husband at the time. The husband was believed to have had no knowledge of Alt's alleged activity, and he cooperated with investigators, Hallock said.
Alt was being held on $100,000 bail and was scheduled to appear in court Friday, according to the Sheriff's Department.
Alt was crowned Mrs. Orange County in 2014 and competed in the Mrs. California 2014 Pageant.
Authorities are seeking additional possible victims in connection with Alt's arrest.
Investigators said Alt worked with young children while volunteering at The Church of Jesus Christ of Latter-Day Saints in San Clemente and Irvine, according to the news release.
A publication created for the Mrs. California 2014 pageant included Alt, who was listed as a contestant and as Mrs. Orange County.
Anyone with information was asked to call the Sheriff's Department at 714-647-7418 or 714-647-7000.
Those who wish to remain anonymous can contact Orange County Crime Stoppers at 855-TIP-OCCS (855-847-6227).
KTLA's Melissa Pamer and Kennedy Ryan contributed to this article.