This is an archived article and the information in the article may be outdated. Please look at the time stamp on the story to see when it was last updated.
A former Monterey Park police officer faces a possible maximum sentence of 11 years in prison after a Los Angeles jury found him guilty of sexually assaulting women while he was on duty Monday, according to the Los Angeles County District Attorney's Office.
The former officer, 41-year-old Israel Sanchez, must register as a lifetime sex offender and will appear in court on April 24 for his sentencing.
He was convicted of over a dozen criminal charges, including five counts of sexual battery by restraint and another five counts of assault under color of authority, prosecutors said.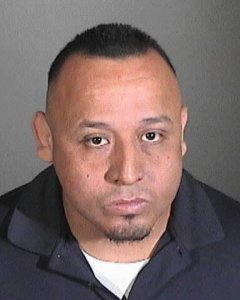 The crimes date back to four years ago, prosecutors said, when Sanchez would force his female victims to expose their bodies during traffic stops he was conducting — while he was working on duty.
On at least two different occasions, Sanchez "touched the women after ordering them to expose themselves," the DA's office said in a news release.
He assaulted the women — who ranged from 19 to 28 years old — between July and August 2014, prosecutors said.
A jury deliberated for about two days before finding Sanchez guilty of multiple sex crimes in addition to three counts of false imprisonment by violence and one count of soliciting a bribe on Monday.
Long Beach police investigated the case at the request of the Monterey Park Police Department.