This is an archived article and the information in the article may be outdated. Please look at the time stamp on the story to see when it was last updated.
An actor who once held a starring role in one of the "Power Rangers" series was sentenced to six years in prison Thursday for killing his roommate with a sword, officials said.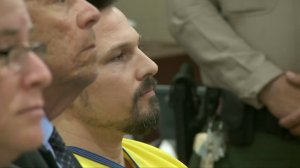 Ricardo Medina, 38, received the sentence two weeks after pleading guilty to voluntary manslaughter in the 2015 slaying of Josh Sutter, with whom he shared a home in Green Valley, according to Greg Risling, a spokesman for the Los Angeles County district attorney's office.
Medina was charged with first-degree murder in 2016, one year after the fatal clash with Sutter. Prosecutors have said Medina and Sutter became embroiled in an argument, and Medina grabbed a sword he kept in his room and stabbed his roommate several times after Sutter attempted to break down his door.
Medina initially claimed that he acted in self-defense.