This is an archived article and the information in the article may be outdated. Please look at the time stamp on the story to see when it was last updated.
A former Power Ranger has allegedly fatally stabbed his roommate with a sword during an argument at their Green Valley home near Santa Clarita, Los Angeles County Sheriff's Department officials have confirmed.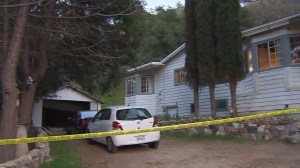 The altercation occurred in the 38000 block of San Francisquito Canyon Road around 4 p.m. Saturday, according to a Sheriff's Department news release.
The incident began when Ricardo Medina and his roommate Joshua Sutter, both 36 years old, got into a physical altercation for unknown reasons.
Sheriff's Deputy Mike Barraza confirmed Medina was a former red Power Ranger. He has credits for multiple projects related to the franchise on his Internet Movie Database page including the 2002-2003 TV show "Power Rangers Wild Force" and 2011's "Power Rangers Samurai."
During the physical confrontation, the actor "retreated" to his bedroom with his girlfriend when Sutter forced the door open.
Medina allegedly then grabbed a sword he kept next to his bed and stabbed Sutter once in the abdomen.
The actor called 911 and remained at the scene until officials arrived, the release stated.
He has been booked for murder at the Palmdale Sheriff's Department station and was held in lieu of $1 million bail.
Green Valley is an unincorporated area located near Santa Clarita Valley in the northwest region of Los Angeles County.
More Video: