This is an archived article and the information in the article may be outdated. Please look at the time stamp on the story to see when it was last updated.
A former Rialto Unified accountant's bail was increased to $1.8 million — the same amount she is accused of embezzling from the district — at an arraignment in Fontana Superior Court on Wednesday after she pleaded not guilty to multiple felony charges.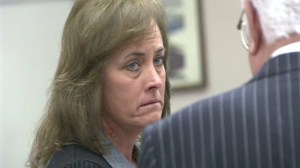 Judith Oakes, 48, was handcuffed and led out of the courtroom after pleading not guilty to eight counts of embezzlement by public or private officer and eight counts of public officer crime.
"Isn't it amazing, in San Bernardino, that the bail for taking money can be twice what the bail is for first-degree murder and can be four times what the bail would be set on a man who commits the crime of rape," Oakes' attorney, Patrick Milligan, told KTLA. "It's just amazing to me that in these days when we don't have any jail space, that we would deem a property crime to have the possibility of creating more danger to the community than those kind of crimes that I just talked to you about."
Oakes' family "was crushed — not because they thought she should be released" on her own recognizance but because they "did not get a bail that would allow them to post bail on their child and their mother without breaking the bank of all these people," Milligan said.
"If she wanted to have bail at $250,000 that's what she should have stolen," San Bernardino County Assistant District Attorney Rick Young said in court, the San Bernardino Sun reported.
Although authorities say Oakes is suspected of embezzling $1.8 million over 14 years, an audit conducted by an investigation firm reported that $3.1 million is unaccounted for during that time period.
"I'm outraged. Our district has suffered severe cuts with the recession and we've had layoffs," a Rialto Unified employee, who asked not to be identified by name, said in an interview. "That kind of money could have saved a lot of jobs."
Oakes was formally charged on Tuesday and faces up to 11 years in state prison if convicted on all counts, according to the district attorney's office.
Rialto police arrested Oakes on Aug. 7 after she was allegedly recorded on video stuffing cash into her bra. She was booked into West Valley Detention Center in Rancho Cucamonga and released on $50,000 bail on Aug. 8, the same day she resigned her position with the school district.
The Rialto Unified School District's superintendent, Harold L. Cebrun, and his deputy, James Wallace, remain on administrative leave pending an investigation into the matter. Neither is considered a suspect, police said.
In a letter of confession, purportedly written by Oakes and addressed to the Rialto school board, the author acknowledges that "I committed a crime and was arrested." It goes on to lament that Cebrun's name has been "dragged through the mud for what I have done and this should not be happening."
"There were no other school district employees involved in this crime and my confession to the police was honest and heartfelt," according to a handwritten letter, which was obtained by the San Bernardino Sun. "Don't blame others for what I have done as I am extremely sorry for my actions against the district."
Authorities were investigating the letter, which has yet to be authenticated, the Los Angeles Times reported. The letter was turned over to Rialto Unified last Friday, said Capt. Randy De Anda of the Rialto Police Department.
"The need to objectively deal with this issue is paramount," attorney Timothy Prince said at a Rialto school board meeting Aug. 15. "It's difficult to do that when the superintendent is compromised in his personal relationship."
Cebrun's attorney, Willie W. Williams, issued a statement Oct. 4 in which the superintendent distanced himself from Oakes and denied any involvement in the alleged embezzlement.
"Dr. Cebrun strongly condemns the alleged criminal activity of Ms. Oakes," according to the statement, which goes on to say that Cebrun "was friends with Ms. Oakes, but the friendship is being exaggerated by the RUSD Board of Education and the press. Dr. Cebrun was not involved in an intimate, romantic relationship with Ms. Oakes. This friendship, however, has nothing to do with Ms. Oakes' alleged criminal activity and, given the nature of the alleged crime, does not even implicate the involvement of anyone else."