This is an archived article and the information in the article may be outdated. Please look at the time stamp on the story to see when it was last updated.
A former Riverside County Sheriff's Department deputy was charged in connection with the killing of his ex-girlfriend's lover, officials announced Friday.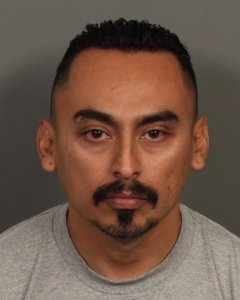 Oscar Rodriguez fatally shot Luis Carlos Morin Jr., 39, on Jan. 27, 2014 while attempting to arrest him on outstanding warrants in Coachella. Rodriguez was a deputy at the time.
The shooting was determined to be justified by the Riverside County District Attorney's Office in 2015, but Morin's family revealed in a wrongful death suit that Rodriguez was in a relationship with Diana Perez, the mother of Morin's children.
Riverside County settled the suit for nearly $7 million in February 2016, according to the Press Enterprise. A month later, Rodriguez resigned from the department.
The sheriff's department and DA's office then began investigating the shooting as a homicide and not an officer-involved shooting, officials said.
Evidence gathered during the "lengthy and thorough investigation" was presented to the Riverside County Grand Jury, which indicted Rodriguez for murder, according to the DA's office.
He was also charged with using a firearm during the crime. Rodriguez, who was arrested Thursday, faces life in prison.
Perez was also arrested in connection with the homicide and has been charged with accessory to murder. She is scheduled to appear in court on Jan 3 and faces up to three years in prison. The extent of her involvement in the homicide is unknown.
During a news conference Friday, District Attorney Mike Hestrin described the incident as an "isolated case" and the actions of a "rogue deputy. He explained that there was no evidence of any wrong doing or a coverup by the sheriff's department.
"This was a love triangle. The deputy was on duty, but he was not acting in the course of his duty, he was taking care of personal things that he was trying to do," Hestrin said.
About previously clearing Rodriguez of the fatal shooting, Hestrin said "hindsight is 20/20."
"We all wished that we had caught it, but we didn't. The investigators didn't ask the right question at the time and we didn't have that information when we initially looked at the case as an officer-involved shooting," he said.
In a news release the DA said that anyone who violates trust and abuses power must be held accountable. "No one is above the law," he said.