This is an archived article and the information in the article may be outdated. Please look at the time stamp on the story to see when it was last updated.
A former student was arrested early Tuesday after he made threats to "shoot up" a high school in Chino Hills, according to the San Bernardino County Sheriff's Department.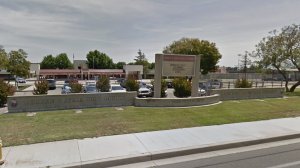 Deputies were dispatched to Ruben S. Ayala High School at 2:59 p.m. Monday after the ex-student, Nicholas Ceballos, made the threats.
The school was closed when authorities received notice of the threats, "affording investigators the opportunity to work swiftly to resolve the matter before it posed an active threat to students or staff," the Sheriff's Department said in a statement.
After 19-year-old Ceballos was identified as the suspect, Chino Hills investigators obtained a search warrant for his residence. He was arrested at 12:38 a.m. Tuesday and booked in the West Valley Detention Center in Rancho Cucamonga on suspicion of making criminal threats, authorities said.
Read the full story on LATimes.com.