This is an archived article and the information in the article may be outdated. Please look at the time stamp on the story to see when it was last updated.
A former Antelope Valley High School student was arrested Tuesday after authorities said he plotted an attack on the Lancaster campus and attempted to recruit students to join him.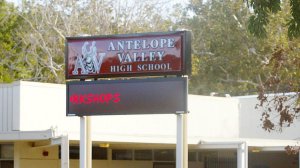 Diavauni James Crooms, 18, was taken into custody at his home on suspicion of attempted murder for making threats, according to Deputy Yeni Deciga of the Los Angeles County Sheriff's Department. He is being held in lieu of $1-million bail.
"The high school is currently on winter break, and there was no immediate threat or danger to any students or staff," Deciga said.
Sheriff's deputies learned about Crooms' plans after a parent called to report a threat he had made on social media, Deciga said in a Sheriff's Department statement.
Click here to read the full story on LATimes.com.