This is an archived article and the information in the article may be outdated. Please look at the time stamp on the story to see when it was last updated.
During his nearly five years heading the tiny Centinela Valley Union High School District, prosecutors say, Jose A. Fernandez devised policies to dramatically pad his salary and retirement benefits.
In 2013 alone, supervising a handful of schools in Hawthorne and Lawndale, the former superintendent pocketed $663,000 in pay and benefits. He kept the school board in the dark, prosecutors say, covering his actions with lies and misrepresentations.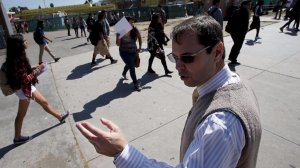 Now, Fernandez, 57, is facing a dozen public corruption charges and up to 15 years in state prison. Records show he was arrested Wednesday morning and booked into Los Angeles County jail.
Fernandez was charged with six counts of conflict of interest, three counts of misappropriation of public funds, two counts of grand theft and one count of embezzlement with allegations of excessive taking because of the dollar amounts involved, according to the Los Angeles County district attorney's office.
Read the full story on LATimes.com.