This is an archived article and the information in the article may be outdated. Please look at the time stamp on the story to see when it was last updated.
A former San Pedro High School substitute teacher was charged Tuesday in connection with her allegedly having sex with multiple underage male students, one of whom she took to Disneyland, prosecutors said.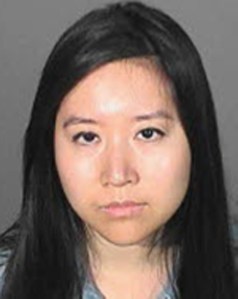 Michelle Yeh, 28, was set to be arraigned Wednesday in Long Beach on multiple felony and misdemeanor charges, according to the Los Angeles County District Attorney's Office.
Yeh became a "permanent substitute" teacher at the Los Angeles Unified School District campus in February, according to the DA's office.
Police said last month that she was a science teacher who had "arranged private meetings" with her students at the end of the school year.
She bought gifts for students while pursuing relationships with them, taking one alleged victim to Disneyland and meeting another at a hotel, the DA's office said.
In connection with two male victims, Yeh was charged with four counts of unlawful sexual intercourse with a minor under 16, two counts of oral copulation of a minor under 16, and two counts of lewd act on a child 15 years of age, the DA's office said.
Three misdemeanor counts of child molesting or sexual annoyance were filed against Yeh in connection with two other male victims.
Yeh was arrested July 17 after one alleged victim said he had been sexually abused by her multiple times, the Los Angeles Police Department announced last month. She had contact with additional minors through online tutoring, police said, leading investigators to believe there were additional victims.
If convicted, Yeh faces up to nine years, eight months in state prison.
Prosecutors planned to ask that her bail be set at $250,000. She was not in custody Tuesday night, county inmate records showed.