This is an archived article and the information in the article may be outdated. Please look at the time stamp on the story to see when it was last updated.
A former Marlborough School teacher charged with sexually abusing two students more than a decade ago is expected to plead to four criminal counts next week as part of a deal with prosecutors, his attorney and the victims' attorney said Wednesday.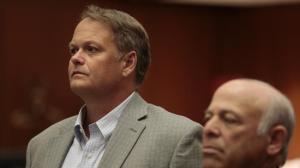 Joseph Thomas Koetters faces multiple charges that could send him to jail for 11 years. He has agreed to plead to the four counts related to sex acts with two teenage girls, the attorneys said. He is accused of abusing one student in 2000 and another in 2004.
As part of the deal, Koetters will be sentenced to a year in county jail and will be required to register as a sex offender, said David Ring, who is representing both victims.
"It appears Mr. Koetters will accept responsibility in the criminal court for his sexual crimes against these girls," Ring said. "I hope Marlborough will now own up and admit its fault in allowing this to occur under its watch."
Click here to read the full story on LATimes.com.