This is an archived article and the information in the article may be outdated. Please look at the time stamp on the story to see when it was last updated.
A former teacher at Marlborough School in Hancock Park was sentenced to one year in county jail and five years of probation Wednesday after pleading guilty to sexually molesting two female students, one of whom became pregnant.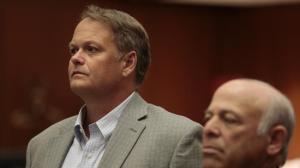 Joseph Koetters, 48, was facing up to 11 years in prison if convicted of the charges against him before recently agreeing to a plea deal with prosecutors.
As part of the deal, Koetters pleaded guilty to two counts each of oral copulation of a person under 18 and sexual penetration by a foreign object involving each victim.
Koetters was sentenced to one year in county jail, placed on five years of formal probation and ordered to complete a year of sex offender counseling, the Los Angeles County District Attorney's Office stated in a news release.
He will be required to register as a sex offender for the remainder of his life and was told he cannot be alone with any female children under the age of 18, other than his own, according to the news release.
He was also barred from teaching at any public or private schools in the future.
Marlborough School issued the following statement regarding Koetters sentencing:
"We are grateful to the courageous alumnae who came forward, as well as law enforcement and the district attorney's office for bringing Dr. Koetters to justice. There is no greater priority at Marlborough School than the safety and well-being of our students. We hope this resolution will help the women involved continue to heal."
Koetters was an English teacher at the elite private girls' school in 2000 when he began a yearlong sexual relationship with a 16-year-old student, the DA's office said.
The student became pregnant but later miscarried the baby.
Four years later, Koetters had a monthslong sexual relationship with another 16-year-old student, who reported the incident to police earlier this year.
Koetters was expected to surrender on Nov. 13 to begin serving his sentence.