This is an archived article and the information in the article may be outdated. Please look at the time stamp on the story to see when it was last updated.
A former LAX airport security screener was in custody Wednesday for allegedly making terrorist threats related to the 12th anniversary of the 9/11 attacks, and the area around his Inglewood home was evacuated amid the response to a suspicious package report, authorities said.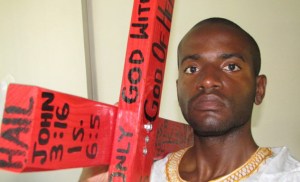 The suspect, who was arrested in a Riverside church parking lot Tuesday night by an FBI-led terrorism task force, is accused of making threats against Los Angeles International Airport, where he had been employed until resigning earlier in the day.
A Los Angeles Police Department bomb squad was responding to LAX late Wednesday afternoon in response to a package had been sent to TSA headquarters apparently by the suspect, according to an FBI spokeswoman.
The response came just after Nna Alpha Onuoha, 29, appeared in federal court in downtown Los Angeles, according to Thom Mrozek, a spokesman for the U.S. Attorney's Office for the Central District of California. He was not asked to enter a plea, Mrozek said.
Onuoha was charged with making a false threat and making threats affecting interstate commerce, Mrozek said. The suspect faces up to 15 years in federal prison if convicted on both charges.
After Onuoha resigned the position he had held as a Transportation Security Administration screener since 2006 on Tuesday morning, he then returned a few hours later to the TSA's LAX headquarters with a sealed express-mail envelope addressed to the screening manager, according to an affidavit filed in federal court and written by FBI Special Agent David Gates.
Shortly thereafter, Onuoha called a TSA terminal checkpoint to say the manager should open the package immediately — and that authorities should begin evacuating two airport terminals immediately, Gates wrote. Onuoha said he would be watching to ensure the terminals were evacuated, authorities said.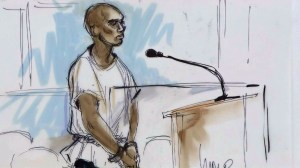 A bomb squad responded and cleared the package Onuoha had allegedly left. It contained an eight-page letter titled "The End of America, The End of satan, we were not defeated" that detailed Onuoha's thoughts on a suspension he faced in July over a confrontation with a 15-year-old girl regarding her apparel, the affidavit stated.
Just after the package was cleared, Onuoha called his manager, again warning that three airport terminals needed to be evacuated, Gates wrote in the affidavit.
He also allegedly called LAX police to urge evacuation, saying he was "going to deliver a message to America and the whole world," the affidavit stated.
"The TSA manager told me that he believed the most credible scenario was an 'active-shooter' situation at the airport," Gates wrote.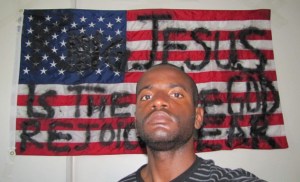 No explosives were found inside the airport after a search of the terminals Onuoha mentioned, but security was increased on Wednesday, airport police said.
At Onuoha's last known residence — a large apartment complex for veterans in Inglewood — authorities found all of the suspect's possessions removed from his room, save for a note that was dated Sept. 11, 2013, and read "There will be fire! Fear! Fear! Fear!"
The note was a sign that Onuoha intended to start preaching in the streets on Wednesday, the suspect told the FBI after his arrest, according to the affidavit.
The FBI's Joint Terrorism Task Force tracked Onuoha late Tuesday to Riverside, where he was taken into custody just before midnight in a minivan in the parking lot of Harvest Christian Fellowship in the 6100 block of Arlington Avenue.
A bomb squad and its robot responded, examining packages found inside the van, aerial video from Sky5 showed. A red painted cross and hand-written signs were found inside the van.
Then, just before 2 p.m. Wednesday, Inglewood police responded to a report of a suspicious package found in a building near Hindry and Spruce avenues, the same location as Onuoha's residence.
The area was evacuated, according to Inglewood police Lt. Oscar Serrano, and aerial video showed multiple patrol cars on scene. People were kept from the building by authorities.
The package had been sent to a counselor who worked with Onuoha, he told KTLA.
Onuoha's home was in an apartment complex designed to house U.S. military veterans. Onuoha had served for eight years as an infantryman in the National Guard, the Los Angeles Times reported. He participated in a program called U.S. Vets, meant to help with adjusting to civilian life.
"I never wanted to talk to him because he just didn't seem, you know, right and I didn't want to have a conflict with him," neighbor Jose Sanchez said. "He looked like he had problems, you know — angry all the time."
But officials with the U.S. Vets program said, in contrast to comments offered by Sanchez, that Onuoha's behavior had never raised any red flags, according to the newspaper.
"Every morning he had his TSA uniform on and he went to work, he came home at night," said Judy Biggs, the vice president for development at U.S. Vets, according to The Times. "There was absolutely no sign at all that there was anything wrong."
A Google search of the suspect's name retrieved a website — satanhasfallen.org — on which writings of a religious nature were posted. Neighbors of Onuoha confirmed that images from the website show the suspect.
"I am a messenger of our God Jesus Christ, and nothing more," stated a lengthy letter signed Nna Alpha Onuoha that is posted on the website.
Another image on the site showed a hand-written note dated Sept. 11, 2013, that appeared to refer to three LAX terminals.
"I hope to see you all at the real Alpha and Omega checkpoint," stated the note, which was signed "nna alpha."
"No more bag checks and complaints. All tickets are free and paid for. Claim your board pass now. Know your gate number; the only flight that matters will soon be leaving," the note read. "Get on your knees. Remain on your knees."
Onuoha is a Nigerian national and a naturalized U.S. citizen, according FBI spokeswoman Laura Eimiller.
A source familiar with the investigation told The Times that Onuoha was the TSA agent who was suspended after a June incident in which he criticized the daughter of blogger Mark Frauenfelder.
Frauenfelder wrote about the incident on boingboing.net, a website he founded. Onuoha had "humiliated and shamed my 15-year-old daughter," Frauenfelder said in a blog post.
"It doesn't matter what she was wearing, though, because it's none of his business to tell girls what they should or should not wear," he wrote. "His creepy thoughts are his own problem, and he shouldn't use his position of authority as an excuse to humiliate a girl and blame her for his sick attitude."
The affidavit referred to this incident, saying Onuoha had been suspended for about a week for telling the girl to "cover up," and that the suspect analyzed the confrontation in his letter to the TSA screening manager.