This is an archived article and the information in the article may be outdated. Please look at the time stamp on the story to see when it was last updated.
A Fountain Valley girl who has had some success with a gourmet lemonade stand has been asked by health officials to get a license and a permit for her small business.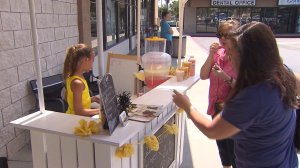 The paperwork, along with upgrading to a commercial stand, will cost about $3,500 and Anabelle Lockwood's family has set up a GoFundMe page to help with the expenses.
Anabelle started selling "The Loco Lemon" in June after her father built the stand for her 10th birthday, according to the GoFundMe page. The drink comes in classic or pink, but also includes gourmet flavors like peach, blueberry ginger and watermelon.
"I always wanted to have a lemonade stand. All my friends were talking about it and I thought it was a good idea," Anabelle told KTLA.
She tried selling the lemonade at her townhouse complex, but she got a letter from the homeowner's association saying the stand was a "safety hazard."
After relocating to different spots, her lemonade sold out every day, according to the page.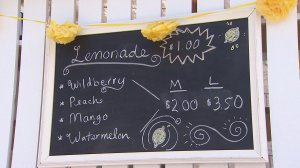 As her popularity grew, she also drew some unwanted attention. Orange County health officials have agreed to issue a permit, but on the conditions that she upgrade her cart to get it up to commercial standards, gets liability insurance, a business license, a deposit and an hourly or monthly fee for use.
"This isn't just another business venture… it's becoming a life lesson for a young ambitious entrepreneur," the GoFundMe page says. "She will be able to do so much more in the community as well as at charity and school events to help others. She's extremely passionate about her business, and we are so proud of her for creating something that so many others can enjoy."
Anabelle and her family were given 30 days to get the proper documents to run the stand full-scale.
In the meantime, they have had to turn down a wedding, corporate events, movies in the park and church events until they get the proper paperwork.
They are still allowed to sell in residential neighborhoods and inside private homes.
For more information or to donate, visit the Loco Lemon Facebook and Instagram pages.
KTLA's Irving Last contributed to this story.