This is an archived article and the information in the article may be outdated. Please look at the time stamp on the story to see when it was last updated.
Four auto dealers in Southern California and five others around the country agreed to settle with the Federal Trade Commission over charges of deceptive advertising that misled consumers about low prices and financing when buying cars.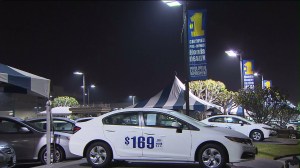 The nationwide sweep, dubbed Operation Steer Clear, targeted dealers that ran misleading print, online and video ads that misrepresented costs for the sale, financing and leasing of automobiles.
"For most consumers, buying a car is one of the most expensive transactions they will make in their life. We want to make sure they have accurate information," said Malini Mithal, assistant director of the division of financial practices at the FTC.
The Southland dealers include Honda of Hollywood and Norm Reeves Honda in Cerritos, the biggest Honda dealership nationally. Both allegedly advertised that customers could pay nothing upfront to lease a vehicle, but the advertised price actually excluded "substantial fees and other amounts." The dealers also allegedly failed to disclose certain lease and credit related terms.