This is an archived article and the information in the article may be outdated. Please look at the time stamp on the story to see when it was last updated.
A disturbing photo that went viral on social media captured the heart-wrenching sight of four dogs -- barely more than skin and bones -- huddling together in a backyard in Pico Rivera.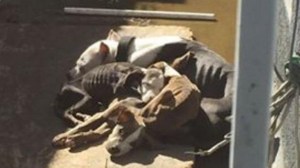 Janette Gonzalez initially posted the picture of the emaciated dogs to Instagram and Facebook on Tuesday, about an hour after it was taken by her friend in the 8900 block of Coffman Pico Road. The dogs were possibly pit bulls.
"It's one of the saddest things just because … I have dogs of my own, I work at a dog store, so I can't picture – especially puppies – going through that," she told KTLA.
Gonzalez immediately called authorities and reported it as a case of animal abuse before posting the photo to her social media accounts.
"I just don't want a small fine, a slap on the wrist-type of thing, I want to make sure that ... there is some sort of justice," she explained.
The photo went viral, having been shared more than 13,700 times since Gonzalez shared it on her page.
"And it was just outrageous to have that happen," neighbor Laura Puente said of the discovery. "I want to know what is going on."
The Southeast Area Animal Control Authority -- also known as SEAACA -- went to the property and recovered multiple dogs. Among the canines were two German shepherds and a Chihuahua, according to the Los Angeles County Sheriff's Department's Pico Rivera Sheriff Station.
According to Puente, the Humane Society and police also showed up to the property where the dogs were discovered. She added a total of nine were rescued.
SEAACA confirmed they were being held at an animal shelter in Downey. No additional information was provided, and their conditions were unknown.
A person on the property where the animals were discovered declined to comment to KTLA.
L.A. County Animal Control confirmed it was investigating the case, but wouldn't provide any further details.