This is an archived article and the information in the article may be outdated. Please look at the time stamp on the story to see when it was last updated.
Several lanes of the northbound 605 Freeway were closed through Whittier late Thursday due to an overturned big rig, authorities said.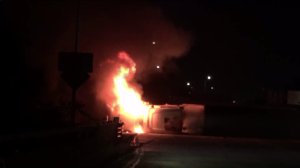 The truck flipped over and caught fire around 7:45 p.m. just before the Valley Boulevard exit, although it's unclear what led to the incident, according to the California Highway Patrol. All northbound lanes were blocked except the carpool lane, and officials said they were unsure when they would reopen.
The four lanes were still blocked as of midnight Thursday night but did reopen during the early morning hours Friday.
No injuries were reported, according to CHP Officer Chris Conley.