This is an archived article and the information in the article may be outdated. Please look at the time stamp on the story to see when it was last updated.
Police arrested four men Saturday morning in connection with a home invasion robbery and hostage situation in Lincoln Heights, authorities said.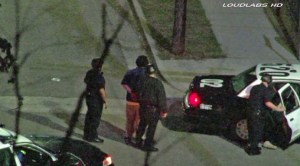 The men broke into a house in the 2600 block of Alta Street (map) around 1:30 a.m., according to the Los Angeles Police Department.
There were three people inside the home at the time, police said.
"The victims actually saw the suspects coming up their driveway armed with a shotgun and handguns, and at that point called 911," Lt. Andy Neiman said.
Two of the residents managed to escape, but the third was held at gunpoint, police said.
Officers evacuated several surrounding homes and the SWAT team was called in, the LAPD said.
One of the suspects fled and was caught when officers arrived.
The two other men released the hostage, and were taken into custody a short time later.
Police brought in canine units, and eventually tracked down and arrested the fourth man without incident.