This is an archived article and the information in the article may be outdated. Please look at the time stamp on the story to see when it was last updated.
An investigation was underway Tuesday in Fontana, where the bodies of an adult male, an adult female and two children were found inside a home, authorities said.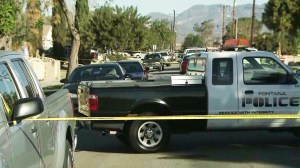 The shootings were being treated as a murder-suicide, according to the Fontana Police Department.
Officers were called to the home in the 7300 block of Palmetto Avenue around 8:30 p.m. Monday, according to police.
The female adult and two children were shot multiple times, detectives said.
The male adult had a gunshot wound to the head, according to police.
The victims were identified by the San Bernardino County Coroner's Office as 38- year old Ramon Miranda, 34-year-old Silvia Miranda, 10-year-old Rayna Miranda and 12-year-old Ramon Miranda, Jr.
Neighbors said the woman, her two children and their step-father lived in the home.
The woman's 16 year-old who son who did not live at the house made the initial call to police after being unable to reach his mother during the day, police said.
The case was still under investigation.
"As a community we are standing together to support this family and keeping them in our prayers" Fontana Mayor Acquanetta Warren said, according to the release.  "On behalf of the Mayor and Council we offer our condolences to the family.  We are grieving with them."
KTLA's Ann Pride and Kareen Wynter contributed to this report.