This is an archived article and the information in the article may be outdated. Please look at the time stamp on the story to see when it was last updated.
A fourth-grader was critically injured and later died after he stumbled into the path of an oncoming car while involved in some "horseplay" as he walked home from an elementary school in Simi Valley with his sister on Thursday.
The crash occurred around 2:19 p.m. at Royal Avenue west of Sinaloa Road, according to a news release from the Simi Valley Police Department. The site is just a couple blocks from Madera Elementary School.
The boy and his sister were apparently horsing around on the sidewalk when the girl shoved her brother, knocking him into the street, according to witness and classmate Pablo Meza.
"He's trying to get up and the car just runs over him," Meza said. "He lands on the curb face down and just starts bleeding intensely."
Despite the fact that the approaching vehicle was moving at a slow speed, the driver was unable to stop in time, according to the police news release.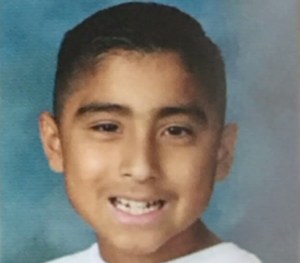 Meza, who immediately called 911, said the driver of the car was incredibly shaken as was the boy's sister.
"She was freaking out. She was like crying and she was like, 'I don't want my brother to die,'" Meza said.
The boy suffered major head injuries and was taken to Los Robles Hospital in critical condition, the release stated.
Hours later, he was taken off life support and passed away, according to police.
Authorities were not releasing the boy's name but classmates and witnesses identified him as Angel Zevallos.
The road remained closed for several hours while investigators documented the scene and inspected the vehicle.
A GoFundMe account for the boy's family was set up early Friday. The page described Angel as 9 and said he had two sisters, 8 years old and 11 months old. The funds will be used for medical costs and funeral services, the page said.