This is an archived article and the information in the article may be outdated. Please look at the time stamp on the story to see when it was last updated.
Another person has died after being brutally beaten in a series of attacks targeting the homeless populations of downtown Los Angeles and Santa Monica last month — becoming the fourth victim to die, police said Wednesday.
The man was beaten in Santa Monica in the spree of attacks on eight people over a roughly three-week period in September, authorities said. In addition to the latest victim, who died on Sunday, three other people have died from their injuries, police said.
The assailant is believed to be Ramon Escobar, a 47-year-old convicted felon who fled from Texas after being questioned in the disappearance of two relatives, Los Angeles Police Department officials have said.
He battered the victims, most of them homeless, with a baseball bat as he rifled through their clothes and belongings to steal, according to police.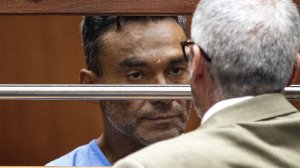 Escobar has been charged with three counts of murder, five counts of attempted murder and four counts of second-degree robbery, according to prosecutors.
But Santa Monica police are requesting the DA's office amend those charges to include the last victim's death, Lt. Saul Rodriguez said.
The victims killed include Branden Ridout, 24, and Kelvin Williams, 59, who authorities believe were homeless and died after being beaten with a bat while they were sleeping in secluded areas, police said.
The third person killed is 39-year-old Steven Ray Cruze Jr., who was found dead underneath the Santa Monica Pier afte being beaten to death and robbed.
Cruze was not homeless but occasionally slept outside, sometimes in a hammock, relatives have said.
Police have not released the identity of the last victim and it is unclear when he was attacked.
When announcing charges against Escobar, the DA's office said five other people were left injured in the attacks. The beatings took place throughout the month of September.
According to LAPD, Escobar arrived to the L.A. area from Texas on Sept. 5 and starting savagely attacking several homeless people within days. The deadly attacks finally came to an end on Sept. 24, when he was arrested after allegedly beating a man in Santa Monica earlier in the day.
Two days later, the DA's office announced murder and attempted murder charges against him.
Since Escobar is accused of beating several people in Santa Monica in addition to the deadly attack on Cruze, it's unclear which of them is the latest victim to die.
The timeline previously given by LAPD investigators indicates the attacks started on Sept. 8.
That day, Escobar brutally bludgeoned a person sleeping on the beach in Santa Monica — leaving the victim with blunt force trauma to the head, police said. Despite surviving and being released from treatment, the victim does not remember the incident.
Two days later, he allegedly beat another person in Santa Monica, police said. This time, the victim was left in a coma.
Then, on Sept. 16, Escobar is accused of attacking three different men in just one day. Police said he beat all of the men, who were believed to be homeless, while they were sleeping under stairwells and in other secluded areas.
Ridout and Williams were two of those victims. The third person attacked was 23-year-old Tievon Harmon, who was put on life support after suffering serious injuries, according to police.
A day later, police officials held a news conference in their search for the suspect — releasing surveillance video as they pleaded for the public's help in finding him.
"This is a violent predator," LAPD Capt. William Hayes said. "Without engaging the individuals at all, he just savagely attacks them with a baseball bat."
On Sept. 20, Escobar returned to Santa Monica and beat Cruze to death as he slept under the pier, according to police. Cruze was sleeping on the beach after coming back from an overnight fishing trip, his family told the Los Angeles Times.
Escobar was arrested less than a week later, on Sept. 24, after authorities found another man beaten and unconscious in Santa Monica. That victim was left in a coma. He was located by police just a quarter mile from where the victim was found.
Prior to coming to California, Escobar had been questioned in the disappearance of his aunt and uncle in Houston in late August. He was not considered a suspect and was released by police, according to authorities.
Meanwhile, Escobar's criminal record includes six felony convictions for burglary and illegal reentry, police said. He has also been deported six times to El Salvador, his native country, according to U.S. Immigration and Customs Enforcement officials.