This is an archived article and the information in the article may be outdated. Please look at the time stamp on the story to see when it was last updated.
A man has been arrested after allegedly stealing Frances McDormand's Oscar at the Governor's Ball following the Academy Awards ceremony Sunday night.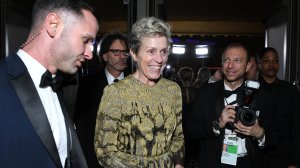 McDormand, who took home the award for best actress for "Three Billboards Outside Ebbing, Missouri," was briefly separated from the golden statue at the post-Oscars event before the alleged thief was apprehended, her representative confirmed to CNN.
The suspect, identified as Terry Bryant of Los Angeles, was leaving the Governor's Ball in Hollywood when he was photographed with the trophy, according to LAPD.
The photographer didn't recognize Bryant as a recipient from the evening's ceremony and helped authorities nab the suspected thief, according to a statement from the Los Angeles Police Department.
Bryant was taken into custody about 11:50 p.m. and is being held in lieu of $20,000 bail, the statement said.
Prior to being caught, the suspect appeared to show off the Oscar in a Facebook Live video posted on an account for Terry Bryant Djmatari, according to the Los Angeles Times.
In the footage, the man can be seen celebrating and gloating about his team's win, saying at first it was for "music" before telling another attendee he had won it for "best producer." He also tried to get the address for Oscar host Jimmy Kimmel's party.
The nearly three-minute-long clip has been viewed more than 18,000 times as of early Monday afternoon, and police confirmed to the Times that they have seen the video.
Bryant apparently did have a ticket to be at the Governor's Ball, according to police.
LAPD said the Oscar was returned to its rightful owner, though they would not confirm the statue was McDormand's.
Her representative, however, did, telling CNN that "after a brief time apart last night, Frances and her Oscar were happily reunited.
McDormand celebrated the reunion with a double cheeseburger from In-N-Out, the representative added.
The Academy Award was McDormand's second in the category; she previously won for best actress for her performance in "Fargo" in 1997.
She gave a rousing acceptance speech Sunday, asking all the female Oscar nominees in attendance to rise from their seats. McDormand then urged the entertainment industry to tell more stories by and about women.