This is an archived article and the information in the article may be outdated. Please look at the time stamp on the story to see when it was last updated.
Motorists across California can expect to begin seeing signs urging them to conserve water in the face of the state's ongoing severe drought, Caltrans announced Tuesday.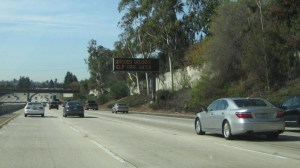 The California Department of Transporation launched a "statewide educational campaign" Tuesday on state highways, with more than 700 electronic signs displaying messages about the drought.
Drivers will be warned: "SERIOUS DROUGHT. HELP SAVE WATER."
"Caltrans has already taken action to sharply restrict water usage," said Caltrans Director Malcolm Dougherty in a news release. "Using our highway message signs, we are asking California's 24 million drivers to join us in this important effort."
The drought message will be used when there are no critical emergency, traffic safety or Amber Alert messages, Caltrans stated.
A drought state of emergency was declared by Gov. Jerry Brown last month after many areas of the state saw their driest calendar on record. Brown urged the public to reduce water consumption by 20 percent.
More information is at the state's water conservation website, SaveOurH20.org.