This is an archived article and the information in the article may be outdated. Please look at the time stamp on the story to see when it was last updated.
California authorities on Wednesday charged a suspect with eight felony counts, including murder, after police said he killed three men in an alleged hate crime.
Kori Ali Muhammad, 39, is accused of fatally shooting the three men at random in downtown Fresno, California on April 18, police said. Muhammad is black and his victims were white.
Muhammad allegedly opened fire at a Pacific Gas & Electric truck, killing one man. He then walked away and fired his handgun at four others, as well as a motor vehicle, the Fresno County District Attorney's Office said.
The Fresno County District Attorney's Office filed a complaint against Muhammad, charged him with counts of murder in connection with the deaths of Zackary Randalls, a 34-year-old worker for the Pacific Gas & Electric utility who was in the truck, and Mark Gassett, 37, and David Martin Jackson, 58.
Gassett and Jackson were standing near an office of the Catholic Charities social services agency where they were clients, Fresno Police said.
The murder counts include special circumstances alleging that Muhammad killed the victims because of their race and committed multiple murders, the Fresno County District Attorney's Office said in a news release.
Muhammad was also charged with one count of shooting at an occupied motor vehicle, three counts of attempted murder and possession of a firearm by a felon.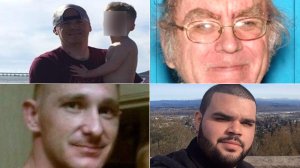 At the time, Fresno Police Chief Jerry Dyer said Muhammad had previously posted on social media about his dislike for white people and government officials.
Muhammad also yelled "Allahu Akbar" (Arabic words that mean "God is greatest") when he was arrested shortly after the shooting, officials said.
"We do not believe … that this is a terrorist-related crime," Dyer told reporters then. "This is solely based on race."
He said the FBI was assisting with the investigation.
When Muhammad surrendered shortly after the shootings, Muhammad told an officer, "I did it. I shot them," according to Dyer.
Muhammad is scheduled to be arraigned Thursday on the charges in Fresno County Superior Court.
At the time of the killings, Muhammad was already wanted by police in the fatal shooting on April 13 of Carl Williams, a 25-year-old unarmed security guard, police said. Muhammad is currently in custody on a murder charge related to Williams' death outside a Fresno motel.
If convicted, Muhammad faces a sentence of either death or life in prison, according to authorities.