This is an archived article and the information in the article may be outdated. Please look at the time stamp on the story to see when it was last updated.
Grief counselors spent the day at two Burbank high schools Monday to help students and teachers deal with the loss of five recent graduates who were killed in a fiery crash, Burbank Unified school officials said.
The crash happened early Saturday morning when a four door Nissan slammed into a concrete pillar near the 5 Freeway and N. San Fernando Blvd. in Burbank, authorities said.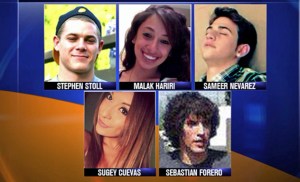 Sugey Cuevas, Malak Hariri, Sameer Nevarez, Stephen Stoll and Sebastian Forero were killed in the crash, family and friends told KTLA 5.
Savannah Underwood, 18, managed to escape the vehicle.
She was taken to an area hospital with a broken leg and other injuries, but was expected to survive, according to Burbank Police Sgt. Darin Ryburn.
"This was a tough one. I've been here 28 years and the five fatalities is pretty rough," Sgt. Ryburn said during a news conference.
Speed was a factor in the wreck, Sgt. Ryburn added.
The five deceased victims, all in their late teens and early twenties, were graduates of Burbank High and John Burroughs High, their friends told KTLA 5.
Underwood graduated from Options For Youth Charter High in Burbank earlier this year, according to her friends.
A growing memorial has been set up at the crash site to remember the victims.