This is an archived article and the information in the article may be outdated. Please look at the time stamp on the story to see when it was last updated.
SAN DIEGO (KTLA) — The focus of a four-state Amber Alert may have abandoned his blue Nissan Versa and left it booby-trapped with explosives, authorities said Thursday.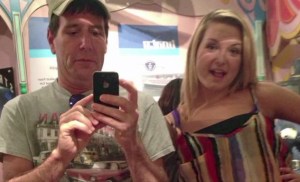 James Lee DiMaggio, 40, was being sought in the murder of a San Diego woman and the abduction of her 16-year-old daughter Hannah and possibly her 8-year-old son Ethan.
DiMaggio was believed to be driving a blue, four-door Nissan Versa, with the California license plate No. 6WCU986.
San Diego County sheriff's officials warned anyone who encounters the suspect's car to stay away because it may be dangerous.
"Working on the theory that he abandoned the car, we think there is a possibility that the car might be rigged," said San Diego County Sheriff's Department spokeswoman Jan Caldwell. "So we want to put out there for civilian safety, for officer safety, if you see the car, do not approach it but call law enforcement."
DiMaggio enjoyed camping and hiking, so "there is a possibility he could be hunkered down somewhere in a rural area — not just in southern California but anywhere up and down the state, the Northwest, Canada and down in Mexico," Caldwell said.
An arrest warrant for murder has been issued for DiMaggio, authorities said.
In the event of his arrest, a judge has signed off on a $1 million bond, a San Diego County Superior Court spokesperson said.
The search began Saturday when the remains of Christina Anderson were found in a burned-out house owned by DiMaggio.
Authorities also found a second set of remains that may belong to her 8-year-old son Ethan.
The remains were consistent with those of an 8-year-old child, a law enforcement source told CNN.
Officials said it would take several days to get the results of DNA testing.
Meantime, family friends have said that DiMaggio expressed inappropriate feelings toward Hannah Anderson in the past.
"He had a crush on her, and she supposedly was really scared," family friend Tammi Paulson Anderson said.
"She didn't want to go around him anymore, but she didn't know how to tell anyone," Anderson said.
Friends said that DiMaggio, who was a close family friend, took the teenager on a week-long trip to Hollywood for her 16th birthday.
That trip was cut short, however, when DiMaggio allegedly became upset with the amount of time that Hannah was spending on her phone, they said.
After that, Hannah apparently refused to respond to DiMaggio's calls and text messages.
Hannah Anderson is about 5 feet 7 inches tall and 115 pounds, with blond hair and blue eyes.
Her brother Ethan has sandy blond hair and is about 4 feet 11 inches tall and 65 pounds.
Anyone who sees DiMaggio or the children should call 911. Anyone with information was asked to call the San Diego Sheriff's Department at (858) 565-5200.