This is an archived article and the information in the article may be outdated. Please look at the time stamp on the story to see when it was last updated.
Frogggsss in spaaaccceee!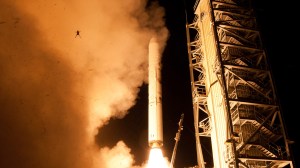 Or frog, at least. And maybe not in space, but for certain a wild ride.
Look closely at this photo (full size image here) and you'll see the little guy streaking skyward alongside a 90-foot-tall rocket carrying a moon mission from the Mid-Atlantic Regional Spaceport at NASA's Wallops Flight Facility in Virginia on Friday.
Another piece of science fiction, you're thinking.
But NASA confirms the photo, taken by a remote camera during Friday's launch of the Lunar Atmosphere and Dust Environment Explorer (LADEE), is not some trick.
Click here to read the full story on CNN.com.