This is an archived article and the information in the article may be outdated. Please look at the time stamp on the story to see when it was last updated.
It's been cold in Los Angeles, which means it's time to break out the scarves, hats, parkas and gloves and dress up like Han Solo trekking across Hoth in "The Empire Strikes Back."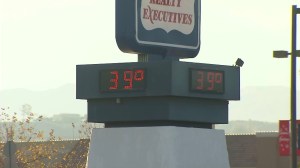 Parts of Los Angeles will see overnight temperatures drop to around 40 degrees, according to the National Weather Service. Temperatures in Santa Barbara County will plummet to the low 30s, which could result in damage to crops.
The cold snap is expected to last through the week, with freezing or near-freezing temperatures around dawn Wednesday and Thursday. Santa Ana winds in Los Angeles, Santa Barbara and the Antelope Valley increase the fire risk Thursday and Friday, the weather service said.
Reaching for all those extra layers makes sense, even when temperatures hover in the low 60s, forecasters said.
Click here to read the full story on LATimes.com.