This is an archived article and the information in the article may be outdated. Please look at the time stamp on the story to see when it was last updated.
A man who was on the run for nearly two decades after being charged with molesting girls as young as six years old in Ventura County has been found by authorities and arrested in Maryland, the Thousand Oaks Police Department said Tuesday.
In April 2000, Julio Anaya posted $250,000 bail a month after appearing in court to face felony charges, police said. He was accused of molesting five girls between 6 to 11 years old.
But after posting bail, he failed to appear in court the following month and had not been found by law enforcement since.
On June 7, Anaya was arrested in the Maryland city of Severn, police said. Ventura County authorities flew out there on Monday to have the 47-year-old accused child molester extradited back to California.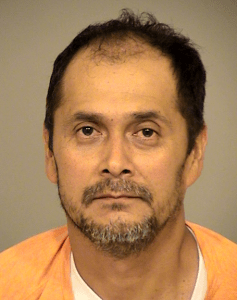 Anaya was first arrested on suspicion of sexually abusing multiple young girls in December 1999, after detectives in Thousand Oaks concluded a five-month-long investigation into the allegations.
The Ventura County District Attorney's Office initially charged him with 15 felony counts of lewd acts upon a child under the age of 14, according to police.
He appeared in court for a preliminary hearing regarding five of those felony charges in March 2000. After posting bail the following April, he failed to appear in court in May and apparently went on the run for the next 18 years.
Last month, detectives received information indicating Anaya had fled to his native country of El Salvador when he disappeared in 2000, police said.
They also learned that he had returned to the United States several years ago and resettled in Maryland — living with a different name and date of birth, according to police.
Once Ventura County investigators followed up on that lead, they were able to locate Anaya and contacted authorities in Maryland to have him arrested earlier this month.
After being extradited, he was taken into custody in Ventura County on Monday and is being held without bail. His next court appearance is scheduled for July 3.
No further information was released by police.