This is an archived article and the information in the article may be outdated. Please look at the time stamp on the story to see when it was last updated.
MAYWOOD, Calif. — An intensive hunt for a fugitive couple wanted in connection with the killing of their 2-year-old daughter in Mississippi is underway in Maywood and surrounding cities after the pair was allegedly spotted in the area selling cars, DVDs and puppies.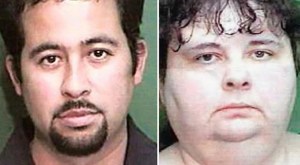 Janet and Ramon Barreto were seen as recently as last weekend in Maywood and other Southeast L.A. County cities selling items and living out of a car and friends' homes, said Tony Burke of the  U.S. Marshals Service. Law enforcement officials began looking for the couple after Janet Barreto failed to appear on charges of manslaughter of a child, three counts of child abuse, six counts of child neglect and tampering with a witness.
When authorities entered the Barretos' home in Oxford, Miss., four years ago, they uncovered a den of alleged child abuse, officials said. The Barretos are suspected of traveling to Guatemala on multiple occasions to purchase children from a local adoption agency. Upon returning to the United States, the children were allegedly physically abused, malnourished and forced to sleep in deplorable conditions, including beds with plywood bottoms.
The children were allegedly punished with beatings and occasionally duct-taped to their beds, punched in the stomach and forced to endure having their heads submerged under water. In 2008, the abuse led to the death of one of their adopted children, a 2-year-old girl, authorities said.
Click here to read the full story on LATimes.com.