This is an archived article and the information in the article may be outdated. Please look at the time stamp on the story to see when it was last updated.
A convicted sex offender who allegedly made threatening phone calls to the victim of an 80-year-old woman he raped in 2004 was taken into custody Wednesday, authorities said.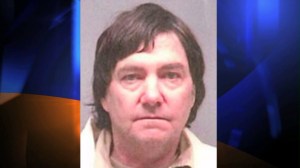 Dennis Michael McKenzie, 55, was being sought by the San Bernardino County Sheriff's Department after a series of obscene messages were left for his victim's family.
McKenzie had allegedly cut off his ankle monitor and disappeared from a  halfway house where he was living in Long Beach.
He was taken into custody in the 500 block of South Palm Canyon Drive in Palm Springs at 4:30 p.m. Wednesday after someone recognized him and contacted detectives at the sheriff's Twin Peaks Station.
McKenzie's apprehension followed extensive media coverage prompted by a new release put out by the sheriff's department Tuesday evening.
McKenzie was sentenced to seven years in state prison after being convicted of a brutal 2004 rape, which took place in the Twin Peaks area, but he was released to a halfway house in Long Beach, sheriff's spokeswoman Cindy Bachman said Tuesday.
The family of his victim returned to their mountain home recently to find dozens of "threatening and obscene" messages had been left for them, Bachman said. Detectives believe McKenzie left the messages.
On the the state Megan's Law sex-offender tracking website, McKenzie age was given as 58, while the sheriff's department stated 55.
McKenzie was convicted of sexual penetration with a  foreign object by force or fear, according to the Megan's Law site.