This is an archived article and the information in the article may be outdated. Please look at the time stamp on the story to see when it was last updated.
The 48-year-old pilot killed in a fiery plane crash in Fullerton was a Southern California native and dentist who recently moved to Utah and commuted back and forth between the two states, his mother said Friday.
Robert Ellis was taking off at around 7:50 p.m. at the Fullerton Municipal Airport, at 4011 W. Commonwealth Ave., when his Beechcraft Duke crashed near Runway 24 and burst into flames, according to Fullerton police.
He was pronounced dead at the scene, authorities said.
Ellis is survived by his wife of more than 25 years and their four sons — the oldest a 20-year-old and the youngest still in junior high, the victim's mother, Sandra Ellis, said.
Sandra said the family is doing "OK," largely because of their strong Mormon faith.
"We have a strong feeling about life and death in the Mormon church; it's not as devastating as you think it might be," she told KTLA. "I've always had the feeling that people never really are gone, they're just always in another place. It's not like you've lost them forever."
The death will likely be hardest on Robert's wife, his mother said, because he "never stopped dating her." They loved going to concerts, Disneyland and the beach, where they roller-skated and rode bikes.
The family had only moved to Heber City, Utah, in January after living in Southern California their whole lives. Before that, they lived on Blue Jay Avenue in Orange in that house that Robert grew up in, which he bought from his parents in 2001, Sandra said.
Even after the move, Robert kept his dental practice in Tustin and flew between Utah and California about twice a week. He also flew from Orange County to Riverside about once a week, his mother said.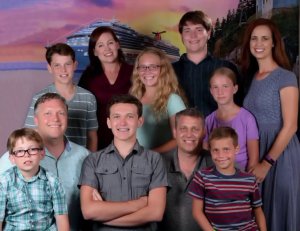 Loved ones said he was flying back home after work when he crashed.
Sandra described her son as an "energetic soul" who was smart, loving and talented man who showed an interest in mechanics from an early age. She said she wasn't sure how he got into aviation, but "somehow or other, he thought he had to fly."
"All I can say is, he died doing what he liked to do, and you can't knock him for that," Sandra said. "I told his little kids that this kind of thing can happen in a car, or falling down stairs. Life just has to go on."
The small plane had just been gassed up and was traveling about 15 feet above ground at about 80 mph when it suddenly veered to the left and plowed into the pavement, according to Fullerton fire officials.
"The aircraft rolled to the left and caught fire," Federal Aviation Administration spokesman Ian Gregor said.
It's still unclear what led to the crash. The National Transportation Safety Board is investigating the incident.
#OCSDPIO OC Coroner has positively ID'd the victim from last night's Fullerton plane crash as Robert Kenner Ellis, 48 years old, from Utah. The crash is being investigated by NTSB.

— OC Sheriff, CA (@OCSheriff) April 19, 2019