This is an archived article and the information in the article may be outdated. Please look at the time stamp on the story to see when it was last updated.
A retired Riverside Police Department lieutenant called on the public to help a homeless witness who he said was largely responsible for the capture and conviction of the man found guilty in the 2010 shooting death of Officer Ryan Bonaminio.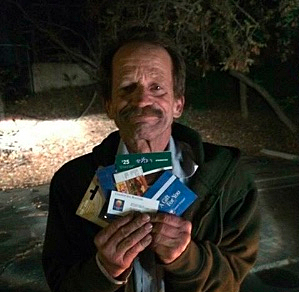 Steve McQueen was standing next to his only shelter, a small red sedan, when he flagged down police and directed them to Bonamino on the night of Nov. 7, 2010, retired Lt. Chuck Griffitts wrote in a GoFundMe post created for McQueen on Saturday.
Bonaminio was on patrol when he attempted to pull over a semi-truck that was believed to be involved in a hit-and-run crash earlier in the day.
The driver, later identified as Earl Ellis Green, eventually exited the truck and ran into Fairmount Park, where he was followed by Bonaminio.
McQueen directed officers to Bonaminio, who was found with a gunshot wound and taken to Riverside Community Hospital, where he died from his injuries.
McQueen also provided investigators with a suspect and vehicle description, according to Griffitts.
Green was arrested at a Target shopping complex in Riverside two days after the shooting. He was convicted of murder and has been sentenced to death.
"I was the watch commander the night of this awful tragedy and saw how shaken he was, but he cooperated completely and I later watched as he humbly testified in court," Griffitts wrote in the post.
The past few days, McQueen has been staying at a Comfort Inn hotel thanks to some current and retired police officers who came together to help find him shelter for the holidays.
"I was overwhelmed. I was so grateful … just for the gesture. One or two days, I would have been so happy with," McQueen said. But it looks like even more help may be headed McQueen's way.
As on Monday, a little more than a day since it was started, the GoFundMe post started by Griffitts had already collected more than $2,000 of a $40,000 goal.
McQueen, who lost his girlfriend to cancer recently, would never ask for help and doesn't believe he deserves any, according to the post. But Griffitts hopes to provide him with "LIFE CHANGING" money, or at least enough to help McQueen find permanent housing.
"Just buying him a hamburger makes him so very happy and thankful," Griffitts wrote.
Once the GoFundMe goal is reached, a savings account in McQueen's name would be established to provide for his housing and food, according to Griffitts.
"We need to show him we care," Griffitts said.