This is an archived article and the information in the article may be outdated. Please look at the time stamp on the story to see when it was last updated.
A funeral service was held Friday for Nohemi Gonzalez, a 23-year-old Cal State Long Beach student who was killed in the Nov. 13 Paris attacks.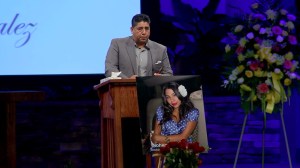 Mourners gathered at the Calvary Chapel of Downey, where the industrial design student was eulogized by family members, elected officials and faculty from her alma maters.
Speakers at the service stood at a podium, in front of which was an enlarged photo of the woman affectionately called "Mimi." In the portrait, she wore a blue dress with white polka dots and a white flower in her hair.
Her stepfather, Jose Hernandez, read aloud heartfelt letters sent by three friends of Gonzalez who knew her in France.
"I will always admire her for her strength," one of the letters stated. Another addressed Gonzalez directly: "You were an inspiration for us to set a goal, move forward and achieve them without any hesitation."
Gonzalez was studying abroad at the Strate College of Design in Paris when she was fatally shot by terrorists at a restaurant in the French capital. The coordinated attacks, some of which took place at a stadium and a concert hall, also left 129 others dead. Gonzalez was the only American killed in the incidents.
"She was following that path that many students, artists, philosophers, scholars, have travelled for centuries before her — to go to Paris, the City of Light. She was part of that history," Professor Martin Herman, chair of Cal State Long Beach's Department of Design, said. "She was finding her voice."
One of Gonzalez's cousins choked back tears as she spoke to her departed relative.
"Thank you for being that small pin in our family's generation that turned negatives into positives," she said. "I still remember you telling me, it wasn't such a bad thing to be the quietest of our family."
Chistophe Lemoine, consul general of France in Los Angeles, said the loss of a child at the hands of terrorists was "a revolting crime that words cannot  describe."
"Nohemi was a young woman, full of life, full of the great plans and limitless dreams that every young woman in her 20s has, ready to live life to the full," Lemoine said. He added that "she was taken away from us that Friday night because she represented la joie de vivre — the celebration of universal brotherhood and fraternity that unite us all."
After the speakers delivered their remarks, photos of Gonzalez were displayed in a projected slideshow as pop-singer Selena's "Dreaming of You" played over the church's public address system.
At the end of the service, six white-gloved pallbearers escorted Gonzalez's casket out of the chapel.